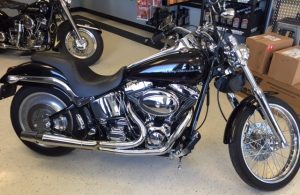 Z94.3 presents Hot Fun in the Summertime!
We're giving away the ultimate summer fun machine – a chromed up Harley-Davidson Softail Duece!
We'll be out LOTS in the summer sun coming up – just keep it on Z94.3 and find out where we'll be taking the bike next where YOU can register to win it all.
The Grand Giveaway happens on August 25th at Eddy Street Commons at Notre Dame.
Take part in Z94-3's Hot Fun in the Summertime – win that Harley-Davidson!
Neal from Plymouth is our latest finalist! IT COULD BE YOU NEXT!!!
Here's where you can register to win the Harley coming up:
Thursday, May 24th – Bruno's Pizza on Bittersweet Road in Granger from 4 to 6pm – we're also giving away concert tickets – must be present to win.
Saturday, May 26th Knox, IN Auto & Bike Show at Wythogan Park in Knox from 3 to 5pm
Good luck!