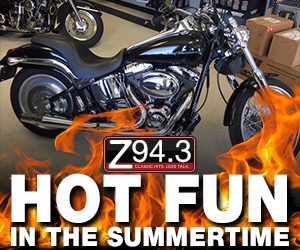 Z94.3 presents Hot Fun in the Summertime!
We're giving away the ultimate summer fun machine – a chromed up Harley-Davidson Softail Duece!
We'll be out LOTS in the summer sun coming up – just keep it on Z94.3 and find out where we'll be taking the bike next where YOU can register to win it all.
The Grand Giveaway happens on August 25th at Eddy Street Commons at Notre Dame.
Take part in Z94-3's Hot Fun in the Summertime – win that Harley-Davidson!
YOU COULD BE OUR NEXT FINALIST!!!
Saturday August 18th – World Wide Jewelry & Pawn on 1072 Lincoln Way East in South Bend from 1 to 3pm
Tuesday August 21st – Bonnie Dunes Drive-in on 2704 Lincolnway West in Mishawaka from 6 to 8pm
Good luck!
For Z94.3's Hot Fun in the Summertime contest rules CLICK HERE.