Hot Fun in the Summertime is BACK! This year you have a chance to win a brand new Honda Super Cub C125 ABS!
Visit the participating locations below on the designated date and submit the keyword below during the designated times to enter!
Friday, July 31 – 3:00pm to 5:00pm – Tom's Car Care Center – 3201 Sugar Maple Court & Bendix Dr, South Bend
Thursday, August 13 – 5:00pm to 7:00pm – Rossini's Pizza – 1630 Linkcolnway East, Mishawaka, IN 46544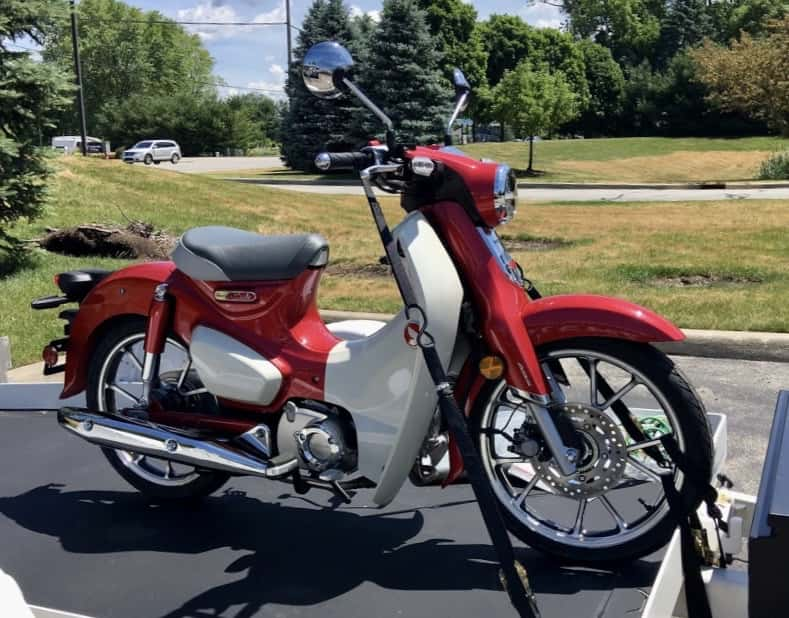 To be eligible, just visit any of our summer remote locations or listen online for the special keyword and enter it online at the designated times. We'll bring the bike out to each location for you to get a good look at (let the dreaming begin!).
One lucky person from each remote will be eligible for the grand prize – a Honda Super Cub C125 ABS from North End Cycle of Elkhart! We'll host a virtual wrap-up party on September 19 to announce the Grand Prize winner, and give away lots of other prizes!
More dates and locations coming soon! See complete contest rules below.
If your business is interested in hosting the Hot Fun in the Summertime giveaway, fill out the contact form below and someone will contact you within one business day!
Z94.3's Hot Fun in the Summertime Contest Rules
The following contest details are applicable to the "Z94.3's Hot Fun in the Summertime" along with the general rules listed on Z943radio.com:
Contest will take place: Thursday, June 25 2020 through Saturday, September 19, 2020
One Listener has the chance to win one 2020 Honda Super Cub C125 ABS  
Listeners register to become a qualifier at each 2-hour remote stop. At each stop, there will be a different key word. The key word can be obtained by going to the specified location (where the key word will be prominently displayed) or by hearing the key word on the air during the specified time frame. To register, you must go to Z943radio.com and register the key word within the given time-period.
No paper entries will be available due to pandemic concerns.
Z94.3 location appearances: Stations will have 2-hour motorcycle appearances at sponsors' locations throughout the summer.  Registration is open only during the 2-hour appearance.
Find upcoming dates for each Station appearance at: Z943radio.com. These dates and times will also be announced on air on 94.3fm. One qualifier will be drawn after each appearance. Qualifier will be notified via phone/email by Station.
Registration must include contact information:  First and Last name, address, phone, and email address for notification.
Finale Giveaway: The finale giveaway will be done via a Zoom session with all qualifiers in attendance via video or phone on September 19, 2020. All regular contest qualifiers will be notified by Station with details prior to Finale event. All Qualifiers must be present at Finale Party Giveaway to participate in final drawing. "No Shows" forfeit all rights in the contest.
All qualifiers must be 18 years or older.
Winner is responsible for any, and all, taxes/registration per state and federal law.
Employees of Station and their immediate families* are not eligible to participate.
Employees and their immediate families* of other FCC-licensed broadcast stations are not eligible to participate.
In contests involving participating merchants, owners and managers of such merchants and their immediate families* are not eligible to participate.
One qualifier per household.
The trailer used for the duration of the contest is provided by Pratt Industries in Niles, Michigan and is NOT included as part of the "prize won" – If the winner would like to purchase the trailer from Pratt Industries after chosen as winner, they can do so by contacting Pratt Industries at 1-800-546-7728

If you, the qualifier, are not available the day of the finale, you may have someone of your choosing be a representative in your place. 

However,  if you win, the prize will still be in your name as the qualifier. 
* Immediate Family shall include spouses, parents, children, siblings, grandparents, grandchildren and those in co-habitation "significant other".  Residents of the same household are also considered "Immediate Family ", whether or not they are related by blood or marriage.