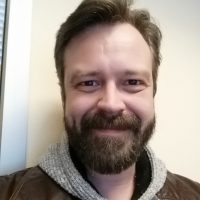 Jesse Edwards – While You Work
Hi there, I'm Jesse Edwards! I'm from Champaign-Urbana, home of the great University of Illinois, where I made my way delivering pizzas to toxically-inebriated college lads and lasses, playing guitar whenever I wasn't feeding the crazy, hungry masses.
I still pick up the axe every now and then, between smoking meats, making Hobo Cakes for my kiddos (ask me sometime, I'll tell ya what they're all about – yummmm), and puffing on my pipe or a delicious cigar.
I've been in the Michiana area for over a decade now, and I LOVE sharing with you all the very best Classic Tunes every day, and come check out the Classic Album Face-Off podcast with Marko and myself!