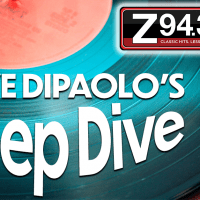 The city of Boston in 1976 was a busy musical town, as the debut album from the band Boston hit the airwaves and music store shelves. It was in this very same year that Ric Ocasek and The Cars came forward to produce a sound totally unlike Boston the band, focused on pop synth new wave experimentation that earned them millions of record sales, and eventually a place in the Rock and Roll Hall of Fame in 2018.
Ric Ocasek made a name for himself not only as a prolific singer and songwriter, but also as a producer for fellow new wave bands like Romeo Void and Suicide, and later, alternative rockers Weezer. He even began producing the 90s pop trio of brothers Hanson but was booted off the record for forbidding corporate presence in the studio while the brothers were recording.
In 1984, the band produced one of their best pop songs of all time, Drive. During the video shoot, Ocasek met supermodel Paulina Porizkova on the set. They fell in love, got married in '89, and had two boys.
1978 was a great year for the debut of the Cars, as they were named Best New Artist by both Rolling Stone and Creem Magazine. In 1979, they lost their Best New Artist Grammy award to one-hit wonder, A Taste of Honey.
Anyone that has met Ric Ocasek might say he was a little bit off the wall. Perhaps that's because his family life wasn't exactly simple. Ocasek's father worked for NASA on Top secret projects. Ric recalled one time when government agents visited his house and questioned his mother about the dreams his father had at night.
The band broke up in 1988 and Ocasek told reporters that a reunion would never happen. So, in 2005, surviving bandmates joined fellow 70s-rocker Todd Rundgren to form "The New Cars," performing many of the Cars and Rundgren's hits. The band toured in 2006, then disbanded shortly after, with the full Ocasek-led group reuniting in 2010 for a new album. But the reunion didn't last long. The band toured for less than three weeks before calling it quits.
The next time they appeared together occurred during the live and televised performance of the Rock and Roll Hall of Fame Induction Ceremony in 2018, when they played several of their biggest hits together. It turned out to be their last performance together, as Ric Ocasek died in 2019.
Podcast: Play in new window | Download | Embed
Subscribe: Google Podcasts | Spotify | Email | RSS | More