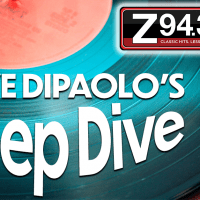 It was 1963. Guitarist Spencer Davis was looking to form a group. It wasn't difficult for him to find at least two future members of the group, stumbling upon Steve Winwood and his bassist brother Muff in a local pub playing a set. It must have been one hell of an impressive set, considering Steve Winwood was only 14 years old at the time and of course still in school.  Davis would go on to recruit Pete York to drums, and by 1964, the band were working together as the Spencer Davis Group, signing their first recording contract after Chris Blackwell of Island Records saw them in a local club.
Muff tells the story that the band didn't mind being named after their relatively unknown guitarist at all, because Spencer Davis was perfectly fine with doing interviews. So, the band figured he could do all the talking while the rest of the band "stayed in bed and let him do them."
The group's first number one single was Keep On Running, charting in 1965. By '66, they produced a set of follow-ups in Somebody Help Me and When I Come Home. Their success in the US had yet to pop because the record companies supporting the band at the time in the states weren't promoting the records. Then came 1967…
The group released Gimme Some Lovin' and I'm A Man, featuring Steve Winwood's powerful teenage vocals billowing through his keyboard work. Both songs sold over a million copies and were awarded gold record status.
The Spencer Davis Group holds the distinction of being one of a few British rock bands to lend their celebrity to a movie plot or rock opera revolving around them. The band participated in a starring role of The Ghost Goes Gear, a British musical comedy film, where the band stayed at a childhood home of their manager, a haunted manor house in the English countryside. Steve Winwood later cited this film participation to be, quote, "a mistake."
Once Steve really became a man, he set out to form his own group, the massively successful Traffic in 1967, and later Blind Faith in around 1969. Winwood's brother Muff would end up becoming an A&R Manager for Island Records.
The Spencer Davis Group continued forward with a cadre of new members after the departure of the Winwood brothers, but would not see success nearly as big as the days with the boys in the band. The band is still active today in some regard, still fronted by the guitarist that bares the group's name.
Podcast: Play in new window | Download | Embed
Subscribe: Apple Podcasts | Google Podcasts | Spotify | Email | RSS | More